Every last Friday of the month is a free live music event of the very highest quality at Aquarius Golf Club, which is found through a walled gate at the end of Marmora Road on the borders of East Dulwich and Honor Oak.
This Friday 29th May is Unplugged night, featuring a line-up of brilliant acoustic performances from masterful local performers.
Curator of live music at the Golf Club, Brian Towell, says:
"The very first acoustic gig we held at the golf club back in 2009 revealed how special and well suited to acoustic music the space at the Golf Club is. Since then we have made a special effort to maintain the Unplugged event, and this year's unmissable line up is almost certainly the best we have ever hosted."
"We have the amazing Jessica Carmody, who has an astonishingly beautiful vocal technique. Jessica has been producing music over the last couple of years with many collaborations and has delved beyond her acoustic style into the world of electronica. Last year one of her compositions received the accolade of being the iTunes download of the week. A great place to start a great night of music."
"Next up is rising local star Jack Joseph, who performs a stunning set of original songs arranged for acoustic performance, with an accompaniment of a soulful, wistful electric guitar. The sound is mesmerising, and the songwriting is astonishing. Real quality."
"Finally, headlining the evening, and closing the set, we are extremely proud to have an acoustic performance from BRUISE. Husband and wife duo Jim and Isobel Kimberley are among the very best of British indie/folk/pop. A recent album release 'In Animal Character' has received rave reviews, and they will be performing much of this new material, alongside their incredible repertoire of classic songs from their acoustic back-library. Jim and Isobel are also regular contributors to Guitarist magazine, which pays testimony to their ability and the high regard that is expressed to them as masterful musicians. Expect nothing short of sheer brilliance!!!"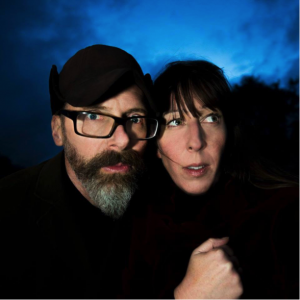 To cap it all off, the venue is incredible, with views across London's entire cityscape, the acoustics of the venue are just perfect for 'unplugged' music, and the sunset (which is almost guaranteed at this time of year) is simply stunning.
And admission is FREE. Add that to an affordable bar (Stella around £4.00/pint) and you've got the best Friday night out this side of the Thames.
Aquarius Golf Club, end of Marmora Road, Honor Oak, London SE22 0RY. Plenty of unrestricted street parking nearby, buses 63 & 363 stop on Forest Hill Road close to the entrance into Marmora Road (opposite cemetery).